Vous en avez assez de ne pas vous faire comprendre par votre coiffeur en France ?
Voici un guide spécialement conçu pour vos cheveux…
Comment expliquer ce que je veux ?
Je ne comprends pas ce qu'il me dit !
Va-t-il tout me couper ?  

Le vocabulaire à connaître
Le salon de coiffure : an Hairdressing salon
Le coiffeur :  an hairdresser 
Une coiffure :  an hairstyle
Une coupe : an haircut 
Se teindre les cheveux : to dye your hair 
Une tondeuse : the clippers 
Une paire de ciseaux : a pair of scissors 
Le sèche-cheveux : an hairdryer
Le fer à lisser : an hair straightener
Le fer à boucler : a curler
Un brushing :  a blow-dry
Un bac à shampooing : a shampoo chair/station
Je prends rendez-vous avec mon coiffeur par téléphone!
Le coiffeur : Salon Fresh'hair bonjour, Eric à votre écoute. 
La cliente: Bonjour Monsieur. J'aimerais prendre rendez-vous pour une coupe et une couleur s'il vous plaît. 
Le coiffeur : Très bien. Cheveux longs ou courts ? 
La cliente :J'ai les cheveux mi-longs, aux épaules. 
Le coiffeur : D'accord. Laissez-moi regarder mes disponibilités… J'ai de la place mercredi prochain à 11h ou jeudi à 13h30. 
La cliente : Mercredi à 11h, c'est parfait. 
Le coiffeur : Fantastique ! Votre nom ?  
La cliente : Mercier. M-E-R-C-I-E-R. 
Le coiffeur : C'est noté ! A mercredi Madame Mercier ! 
La cliente : Au revoir !
En cas d'urgence :
Pouvez-vous me prendre maintenant ? : Is it possible for you to see me now? 
Qu'est-ce que vous me recommandez ? :What do you recommend to me ?
Les types de cheveux
Longs : long
Courts : short 
Epais : thick 
Bouclés : curly 
Crépus : kinky
Indisciplinés : unmanageable 
On commence par le shampooing !
Comment est la température de l'eau ?
Pas trop chaude ? Pas trop froide ? 
Voulez-vous un soin pour vos cheveux    
Un démêlant : an hair conditionner 
Un masque nourrissant : a nourishing mask 
Alors, qu'est-ce que je vous fais ?
Je voudrais
couper les pointes
rafraîchir la coupe
changer de coupe
Couper la frange
Quelques coupes 
Le carré : bob                                Le carré plongeant : A-line bob
Le carré long : lob                        Le dégradé : layered hair
La coupe garçonne  : tomboy haircut     La frange : a fringe /bangs 

Je voudrais teindre mes cheveux !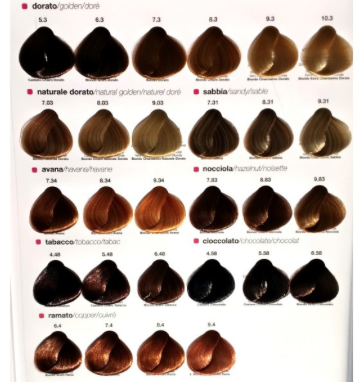 Je voudrais teindre mes cheveux en blond/brun/roux/noir : to dye in blond/ brown / red / black
J'aimerais faire un balayage : an highlighting
Pensez-vous que je puisse teindre mes cheveux en noir ébène ?  
Un séchage pour avoir…
Du volume
des boucles (curls)… 
Le coiffeur peut vous proposer : du gel, de la laque (hairspray) ou une autre lotion capillaire.
J'aimerais une coiffure pour être parfait(e) ce soir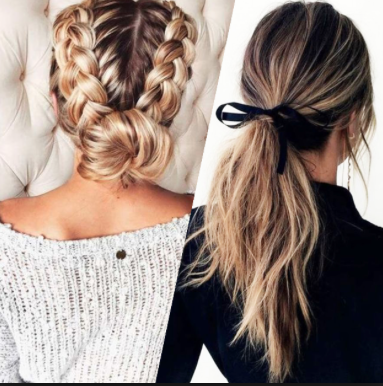 Une queue de cheval : A pony tail
Un chignon : a bun
Une tresse : a braid 
Une tresse africaine : cornrows
Des vagues : some waves
Un lissage : an hair straightening
Une raie sur le côté : side part hair
Côté homme
Oui oui Messieurs, nous pensons aussi à vos cheveux et à votre barbe !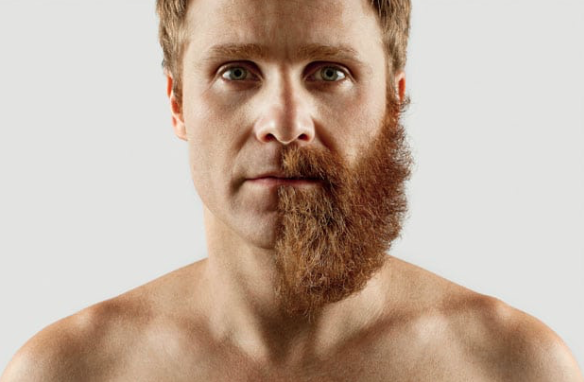 Votre coupe de cheveux …
La coupe en brosse : crew cut 
Un crane rasé / chauve : shaved head / bald head 
Votre barbe: 
Une moustache
Une barbe:a beard
Un bouc : a goatee
Pouvez-vous me raccourcir la barbe s'il vous plait ? Could you trim my beard please ?
Quelques expressions autour des cheveux
Se faire des cheveux blancs : S'inquiéter
C'est tiré par les cheveux : Ce n'est pas logique !
S'arracher les cheveux : s'inquiéter, être furieux
Se crêper le chignon : se battre, se disputer violemment
Couper les cheveux en quatre : être trop méticuleux
En vidéo !
Pour vous entraîner, voici un extrait d'une mini-série française "Un gars, une fille chez le coiffeur".